Lend me your ears and I will lend you mine.
So. I will be going to college next year, and I need a laptop to do all the college stuff (and the internet!) on.
At the moment, I am torn between an Apple / Macbook Pro and a Hewlett Packard laptop.
This will become my primary computer, and thus needs to be pretty well-rounded. I have worked with both platforms and pretty much like 'em both. A Macbook would be great so I could use GarageBand and Final Cut Pro, but an HP might interface with lots of other stuff more easily (amirite? I don't really know anything about computers). I will not be paying for this myself, but my parents (who
will
be) can get a major huge deal on an HP (through family ties and what have you).
Discuss. Please.



Posts

: 219


Join date

: 2011-03-16


Location

: Elsewhere.

Characters
Name: Shade Rowlandson
Stats:


You are lucky. You happened to have me (uber computer nerd). There is just one thing I have to say before I spill the computer contents of my brain out on the floor. It is Mac v. PC. Close, but no quad-core microprocessor (what did I tell you, uber nerd). HP is a computer company that manufactures computers using the Windows OS*. Mac, produced by Apple (those conceded sons of *mumbles*) are only sold on Mac desktops or laptops. Now, to the point. The big question is what do you want to do with the laptop? In a general overview, the Mac OS is good for music and video editing. Macs dominate the filming and music industry. Macs also never get viruses (mostly because they are programed in such a bizarre code it is not worth a hackers time to learn the code) and they rarely crash (but they can crash, they are not invincible). Windows on the other hand, are the powerhouse of the computer world. They are the best in everything except video and music editing but they still do quite an exceptional job (for the right price). While they can get viruses, and the dreaded BSoD* those conditions are fixable and the use Ubuntu (free OS), Windows is still a viable OS. There is so much more to be said but it would help if I knew what you were specifically going to do with your laptop.
*OS means operating system for those who aren't in the know (a.k.a. Hawk)

*BSoD means the Blue Screen of Death, the blue screen that appears when a fatal error occurs in the programming of the Windows OS, thankfully it does say what the problem is but it does flash for some cases and can require a camera.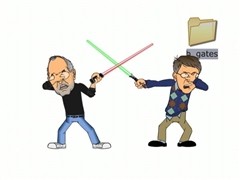 In the mean time let the nerd fight begin!!!



Posts

: 73


Join date

: 2011-03-16


Location

: In America!

Characters
Name: Garrel
Stats:


I have been browsing for an incredibly long time for the perfect laptop. I'm waiting for the summer because that's when the new models generally come out. What I want is a multimedia laptop that plays movies, games on medium, and plays music. Every major company has an equivalent to this. Apple has the Macbook pro. Hp the Envy. Lenovo the Y series. Dell the XPS. It goes on.

Cuidado basically sums it up. My brother has a macbook pro, and he is very happy with it. The cheapest model is sturdy. Chances are you can get a windows laptop with higher specs for a lower price, but if you like the mac operating system then I would say check it out. If you can, visit an Apple Store and try out the system to see if you like it. You can't go wrong with the macbook pro, it just doesn't suit my own personal needs. Playing games isn't possible with the actually affordable model, and even with the advanced models there are few games available for Mac.

As for Hps, I would recommend waiting on the Hp Envy. The Envy is basically Hp's premium multimedia laptop that is well built and can do anything the macbook pro can do. A new version should be released soon.



Posts

: 64


Join date

: 2011-03-15



I say: Neither.

Mac is extremely overexpensive, incompatible with just about everything, and not customizable in any way.

HP is known to crash and/or otherwise break down... A LOT.


I myself use an Asus, and my brother has an Acer. Both have had little to no problems in the year+ that we've had them (before that we had HPs, mine crashed 3 times, my brother's screen broke, was fixed and then broke again, just like that). And both have some pretty heavy processing power.



Posts

: 170


Join date

: 2011-03-15

Characters
Name:
Stats:


I've got friends with Macs and friends with HPs, and they both love them. Hurricane on SSLF knows a way to get the Apple and Windows OSes on a Mac, so if you're more partial to Microsoft, you can talk to him about doing that if you get a Mac.

Personally, I've got a Dell Inspiron 14, which I upgraded to around $800 cost, and I love it.



Posts

: 98


Join date

: 2011-03-15



It is true. Macs have feature called bootcamp that puts a second OS on the same hard drive. The only drawback is that both OSs then have less memory available to them. Choosing an OS is easy. What is next is find a laptop with suitable RAM (DDR3 is best), a suitable Hard drive memory space (7200 RPM preferable or a Solid state drive(more expensive but much faster)), a good video card (1GB is almost standard in laptops), and anything else you might need.And Acers are one of the worst. Or at least to my knowledge.



Posts

: 73


Join date

: 2011-03-16


Location

: In America!

Characters
Name: Garrel
Stats:



---
Permissions in this forum:
You
cannot
reply to topics in this forum